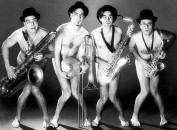 From the distant 1991 they go running around in streets and stages all over the world.
Over frequent incursions in European TVs, Mabo Band keeps taking its such original shows in really disparate contexts.
The musical/comic trio from Marche, with its cocktail of music, jokes and theater improvisations has had lots of attempts to imitate, in facts, in the European view there are lots of street band that are based on Mabo Band repertory.
From the pres

tigious festival "Just pour Rire" in Canada to various exhibitions in Japan, from such frequent tours in Germany to exhibitions in famous theme parks in USA.
Doesn't matter if it's a white-tie dinner, a theatre listing, an opening or a business convention, Mabo Band can always adapt to such different situations.